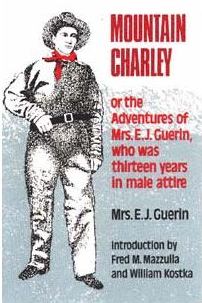 It has come to the editors attention that Mountain Charley, the proprietor of the Mountain Boys Saloon, a man who can swear like a double-crossed cowboy, gamble like a swindler, and down Taos Lightning like an outlaw, is in fact, NOT A MAN!
Read in PDF Format: 1860 – Mountain Charley
Yesterday, Mountain Charley emptied his six-shooter into a drifter named Jamieson and before the scoundrel passed, Jamieson revealed Mountain Charley was actually Elsa Jane Forest, formerly of St. Louis.
With the guise up, Miss Elsa Jane gave the news an exclusive on her past. At the age of fifteen, she learned her husband, a Mississippi Riverboat Pilot, had been shot and killed by none other than our dead villain, Jamieson.  With two small children to support, Elsa Jane disguised herself as a man, left her children with the Sisters of Charity, and began life as a man – the only way she could find to support herself and her children.
How was this possible, the editor asks? The good lady describes it as thus: "I Buried my sex in my heart and roughened the surface so that the grave would not be discovered – as men on the plains cache some treasure and build a fire over the spot so that the charred embers may hide the secret."
She began her new life as a cabin boy on a steamer, earning thirty-five dollars a month, but soon moved on to become a brakeman on the Illinois Central Railroad.  In 1855, she joined fortune seekers and headed to California, earning thirty thousand dollars running a saloon, hauling provisions to gold camps, and running a ranch.  Later she traveled to the Colorado Territory and worked as a trader for the American Fur Company.
As often as she could, the poor woman returned to St. Louis to visit her children, but she said the benefits of being a man outweighed her motherly yearnings.  In her own words she said, "I began to rather like the freedom of my new character.  I could go where I chose, do many things which while innocent in themselves, were debarred by propriety from association with the female sex.  The change from cumbersome, unhealthy attire of woman to the more convenient, healthy habiliments of a man, was in itself almost sufficient to compensate for its unwomanly character."
Finally, she opened the Mountain Boys Saloon in Denver City, and called herself Mountain Charley. But as luck would have it, yesterday she spotted Jamieson outside of Denver City.  As Elsa Jane said, "I emptied my revolver upon him, but my revenge was interrupted by two hunters." Those hunters loaded Jamieson on a litter and carried him to the city where he recovered enough to reveal Mountain Charlie's true name.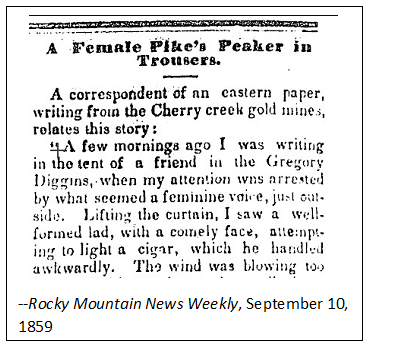 Elsa Jane, unable to continue her impersonation of a man, has decided to marry her bartender, H. L. Guerin, sell her saloon, and move to St. Joseph, Missouri. Those hunters loaded Jamieson on a litter and carried him to the city where he recovered enough to reveal Mountain Charlie's true name.
More Than Petticoats, Remarkable Colorado Women, Gayle C. Shirley, 2002, The Globe Pequot Press.
Mountain Charley, or the Adventures of Mrs. E. J. Guerin, Who was Thirteen Years in Male Attire, Guerin, E. J., University of Oklahoma Press, 1968. Free Download: http://digitalcollections.smu.edu/cdm/ref/collection/wes/id/2096