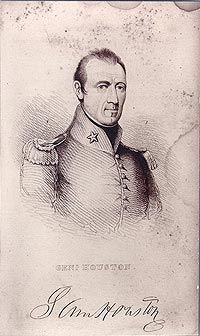 It has come to our attention that General Sam Houston, who only last month led 800 Texans in a glorious victory over General Antonio Lopez de Santa Anna, suffered one rather embarrassing defeat before the battle that liberated Texas. Described as a perfect model of manliness and bravery, General Sam Houston was none-the-less defeated by frontierswoman and Texan, Pamela Mann.
Read in PDF Format: Sam Houston's Defeat
In preparation for his ensuing battle, General Houston received The Twin Sisters—two cannons, six pounders, gifts from the people of Ohio. To move these cannons to the sight of the upcoming battle, the General borrowed a yoke of oxen from Mrs. Pamela Mann.
Here the story blurs. Some say Mrs. Mann loaned General Houston the oxen under the condition they be returned by a certain time where others say they were borrowed on the condition the General took the guns to Nocogdoches, NOT Harrisburg where there was fighting. Either way, when the oxen were not returned, Miss Mann armed herself with a pair of pistols and a bowie knife and went after them.
Eyewitness Robert Hunter said Mrs. Mann rode up to General Houston and said, "General, you tole me a dam lie. Sir, I want my oxen."
At the time, Houston's cannons were bogged down in a prairie wallow, and the General pointed out he could not move them without the oxen. To this, Pamela Mann responded, "I don't care a dam for your cannon. I want my oxen."
"Madam, don't irritate me," Houston cried angrily.
In response, Pamela Mann whipped out a pistol and her bowie knife. "Irritate the devil. I am going to have my oxen." She cut the Oxen from their traces and drove them off.
General Houston's men watched this performance in stunned silence. As Mr. Hunter reported, "No body said a word" as Mrs. Mann jumped on her horse and herded her oxen away.
Later, the army's wagon master, Mr. Conrad Rohrer, protested, saying they needed the oxen to move the cannons. He went after the oxen and returned hours later, his shirt ragged and tattered. When questioned why he'd returned without the oxen, he replied, "She would not let me have them."
"What happened to your shirt?"
"She needed it for baby rags."
So ended Sam Houston's defeat. Fortunately for Texas, he fared better against General Antonio Lopez de Santa Anna.
The Gentle Tamers: Women of the Old West, by Dee Brown, 1958, pp 233.
  2. Chambers County Historical Commission,  https://www.facebook.com/ChambersCountyHistoricalCommission/posts/821105748000250:0