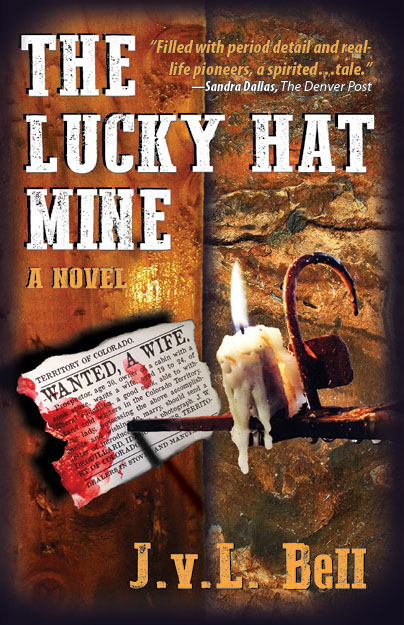 Colorado Territory, 1863
What's a Southern Belle to do?
Wife-wanted ads are always risky business, but Millie Virginia never imagined she'd survive the perilous trip across the Great Plains to find her intended husband in a pine box. Was he killed in an accident? Or murdered for his gold mine? Stuck in the mining town of Idaho Springs without friends or means, Millie is beleaguered by undesirable suitors and threatened by an unknown assailant. Her troubles escalate when the brother of her dead fiancé, Dominic Drouillard, unexpectedly arrives.
Dom is an ill-mannered mountain man who invades Millie's log cabin, insists his brother was murdered, and refuses to leave until he finds the killer. Compelled to join forces with her erstwhile brother-in-law-to-be, Millie discovers the search for Colorado gold is perilous, especially with a murderer on their trail.
The Lucky Hat Mine interlaces the tale of a feisty heroine with frontier legend and lore making for a rousting historical mystery.
The Lucky Hat Mine receives a bronze medallion in the 2018 Will Rogers Medallion Competition for Western Humor
"The Lucky Hat Mine, filled with period detail and real-life pioneers…, is a spirited…tale." –Sandra Dallas, The Denver Post, January 6, 2017
"Hilarious, endearing and intriguing, this book has everything for everybody to enjoy it. It made me laugh, it made me cry, and I am sure it will stay with me for a very long time." –Audiobook Reviews, January 23, 2017
What People Are Saying about The Lucky Hat Mine
Winner of Readers' Favorite 5-Star Rating

"The Lucky Hat Mine combines murder, mystery, gold mining and life on the early frontier in a perfect blend of fact, fiction and diversion. J.v.L. Bell has certainly done her research of the times and written a story that was hard to put down…. I recommend this book to young and old, mystery and historical readers, and those who just enjoy a well written book." – Readers' Favorite
"JvL Bell's recipe for a great story, simmer a heroine in danger, add a dash of history, and spice with humor." – HL Miller, Author of the PT Thomas Series
"The book is a spicey combination of fact and history, frosted with local lore." – Tony Clark
"An intriguing, fast-paced mystery lovers of westerns and coming-of-age tales alike will love." – Andrew McFadyen-Ketchum, poet-editor
"A funny, thrilling and scary tale of a pioneer woman's quest to solve a murder, and find acceptance — and yes even love — on the rugged frontier." – Tim Mahoney, author of the Mick Powers Historical Mysteries
"The first (and maybe best) book I have edited is finally published! And by a real publisher! It's a delightful fiction mystery jam-packed with some real history of the Colorado territory in 1863. I highly encourage you to check it out and buy a copy for yourself, your mother, your cat, and maybe even an audiobook copy for your neighborhood squirrel." – Nicki Duggan, editor
More information about J.v.L. Bell's Books:  Booksradar.com – Books in the Right Order