Mrs. A. M. Collins and her publisher, The A. S. Barnes & Company, have graciously allowed the following reprint of her recipes to cook Half a Calf's Head and Beef A La Mode. These recipes are from her cook book, The Great Western Cook Book or Table Receipts, Adapted to Western Housewifery, published in 1857.
Read Article in PDF Format: Recipes for cooking Half a Calf's Head and Beef A La Mode
Cooking Half A Calf's Head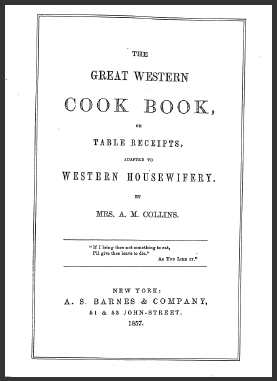 Cut it in two, and take out the brains, wash the head well in several waters, and soak it in warm water ten minutes before you dress it.  Put the head into a saucepan with plenty of cold water; when it is coming to a boil, and the scum rises, carefully remove it.
Half a calf's head with the skin on, will take from two hours and a quarter to three hours; without the skin, an hour's less time will suffice.  It must be stewed very gently until it is tender.  Boil a small handful of sage leaves or parsley till it is tender, and chop it fine.
Wash the brains well in two waters, put them in a pan of cold water, with a little salt in it, and let them soak for an hour, then pour away the cold, and cover them with hot water, and when you have cleaned and skinned them, put them into a stew-pan with plenty of cold water.  When it boils, take off the scum very carefully, and boil gently for fifteen minutes.  Now chop them, not very fine, and put them into a saucepan with the sage leaves, and two table-spoonsful of melted butter, a little salt, and cayenne pepper.  Stir them together, and as soon as they are well warmed, skin the tongue, trim off the roots, and put it into the middle of the dish, with the brains around it.
Beat up the yolk of an egg and rub it over the head with a feather, powder it with dried sweet-herbs and bread-crumbs, and brown it in an oven.  Then pour a little melted butter over it.
Beef A La Mode
Take a small round of beef, cut holes entirely through it, cut small strips of salt pork, roll them in curry powder, with thyme and summer savory, draw them entirely through the holes; at the top of each hole, sprinkle black pepper, cloves, and nutmeg, pounded together – some use orange-peel – put it in a pot, take five small onions, with a few cloves stuck in them, lay them around your beef, pour hot water on, barely enough to cover it.  Let it simmer very moderately for five or six hours; if you like, you may add a pint of wine to the gravy, when you dish it.  It is entirely delicious enough without the wine; but, as some prefer it, it is best to know when to add it.