TODAY, AUGUST 1, 1876, PRESIDENT ULYSSES GRANT SIGNED THE BILL THAT MADE COLORADO THE 38TH STATE IN THE UNION, GIVING COLORADO THE HONOR OF BEING THE ONLY CENTENNIAL STATE. THE ROAD TO STATEHOOD HAS BEEN A LONG, STRANGE BATTLE. THIS IS A BRIEF HISTORY OF COLORADO'S ROAD TO STATEHOOD, BECAUSE, AS DESCRIBED IN THE ROCKY MOUNTAIN NEWS ARTICLE PUBLISHED ON MARCH 16, 1875, "TO DO MORE WOULD FILL A BOOK."
Read in PDF Format: Colorado's Long Road to Statehood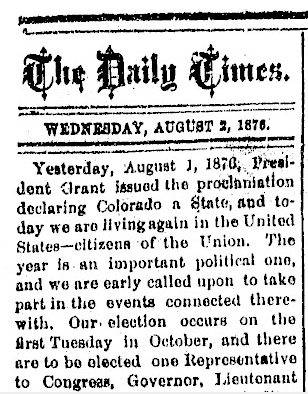 AS EVERY SCHOOL CHILD KNOWS, THE CONSTITUTION GRANTS CONGRESS THE AUTHORITY TO ADMIT NEW STATES INTO THE UNION. ALTHOUGH A CONGRESS CAN MAKE A TERRITORY INTO A STATE AT ANY TIME, THEY USUALLY REQUIRE THE TERRITORY TO HAVE THREE THINGS: A POPULATION OVER 60,000, A STATE CONSTITUTION THAT REFLECTS THE LAWS OF THE US CONSTITUTION, AND A REQUEST FROM THE TERRITORY FOR STATEHOOD.
DESPITE THESE REQUIREMENTS, BECOMING A STATE, AS COLORADOAN'S HAVE LEARNED OVER THE PAST 18 YEARS, IS REALLY A GAME OF POLITICS. HERE IS A BRIEF SUMMARY.
ON APRIL 11, 1859, A CONVENTION WAS HELD IN DENVER TO CONSIDER THE EXPEDIENCY OF ORGANIZING A STATE GOVERNMENT. A CONSTITUTION WAS FRAMED AND SUBMITTED TO THE PEOPLE. THE VOTE WAS 2,007 FOR TERRITORY, 1649 FOR STATEHOOD. MANY COLORADOANS DIDN'T WANT TO PAY THE TAXES NEEDED TO ADMINISTER A GOVERNMENT. DESPITE THIS SETBACK, PROGRESS WAS MADE WHEN ON FEBRUARY 28, 1861, PRESIDENT BUCHANAN SIGNED A BILL ORGANIZING THE TERRITORY OF COLORADO.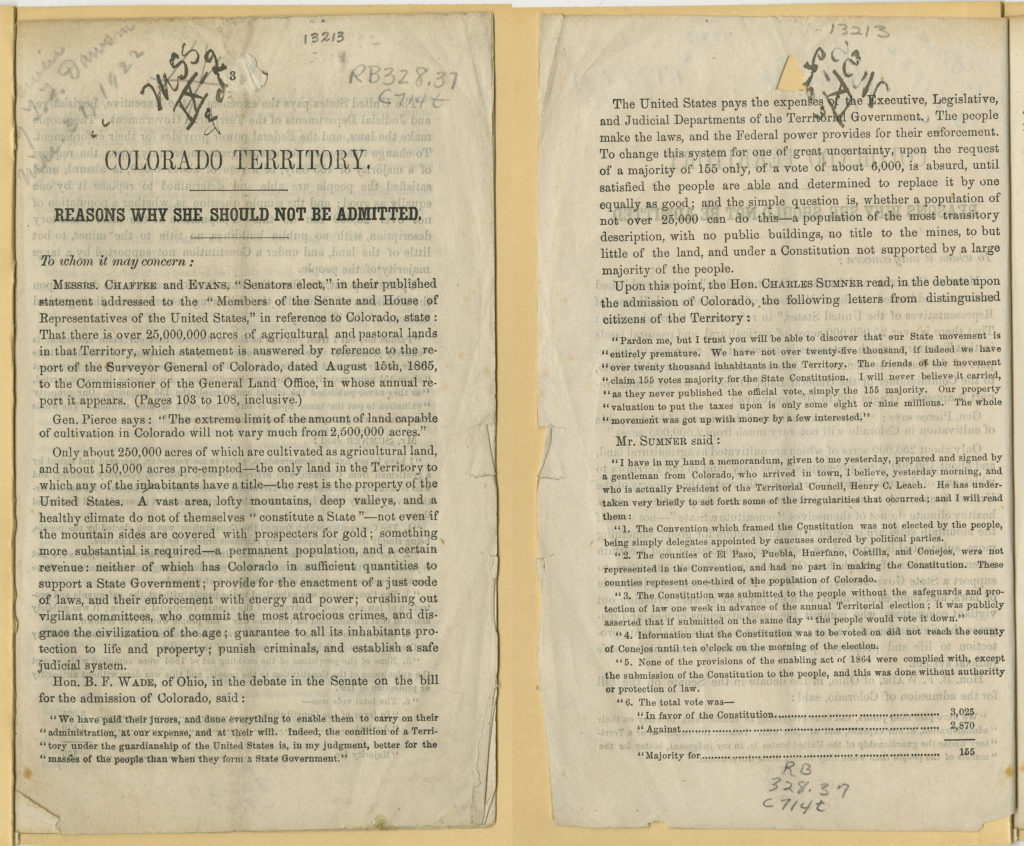 IN JULY OF 1864, ANOTHER CONSTITUTIONAL CONVENTION WAS HELD IN DENVER, ANOTHER CONSTITUTION FRAMED, AND ANOTHER VOTE FOR STATEHOOD SUBMITTED. PUBLIC SENTIMENT WAS STRONG AGAINST THIS MOVEMENT BECAUSE THE TERRITORY WAS NOT CONSIDERED RIPE FOR STATEHOOD. DURING THE SEPTEMBER 1864 ELECTION, THE CONSTITUTION WAS DEFEATED BY A LARGE MAJORITY.
A NEW MOVEMENT STARTED IN JUNE, 1865, PRESSED BY THE GROWING NECESSITY OF REPRESENTATION IN CONGRESS. ON SEPTEMBER 12, 1865 A NEW STATE CONSTITUTION WAS SUBMITTED TO THE PEOPLE OF COLORADO AND RATIFIED BY A MAJORITY OF 155 VOTERS. IT IS SAID, ALTHOUGH NOT PROVEN, THAT FRAUDULENT VOTES BY REPUBLICANS HELPED RATIFY THE CONSTITUTION. NEVERTHELESS, A BILL FOR STATEHOOD WAS SUBMITTED AND PASSED THROUGH THE US CONGRESS, ONLY TO BE VETOED ON MAY 3, 1866 BY PRESIDENT JOHNSON.
PRESIDENT JOHNSON STATED OBJECTIONS INCLUDED AN INSUFFICIENCY OF POPULATION; STATE GOVERNMENT NOT ESSENTIAL TO THE POPULATION; THE BURDENS OF INCREASED TAXATION; AND THAT IT DID NOT APPEAR THAT A MAJORITY OF CITIZENS WERE PREPARED FOR OR DESIRED STATEHOOD.
A SECOND BILL PROVIDING FOR THE ADMISSION OF COLORADO AS A STATE WAS PASSED BY CONGRESS ON FEBRUARY 18, 1867 AND AGAIN PRESIDENT JOHNSON VETOED IT.
THE QUESTION OF STATEHOOD WAS PUT ON HOLD UNTIL DECEMBER 3, 1873 WHEN PRESIDENT GRANT RECOMMENDED TO CONGRESS THE PASSAGE OF A BILL TO ALLOW COLORADO TO BECOME A STATE. A BILL WAS INTRODUCED TO THE COMMITTEE ON TERRITORIES AND AFTER SEVERAL AMENDMENTS, IT WAS PASSED IN CONGRESS ON SEPTEMBER 1, 1875 WITH THE STIPULATION THAT THE PEOPLE OF COLORADO MUST PASS OR REJECT A STATE CONSTITUTION IN A VOTE IN JULY OF 1876.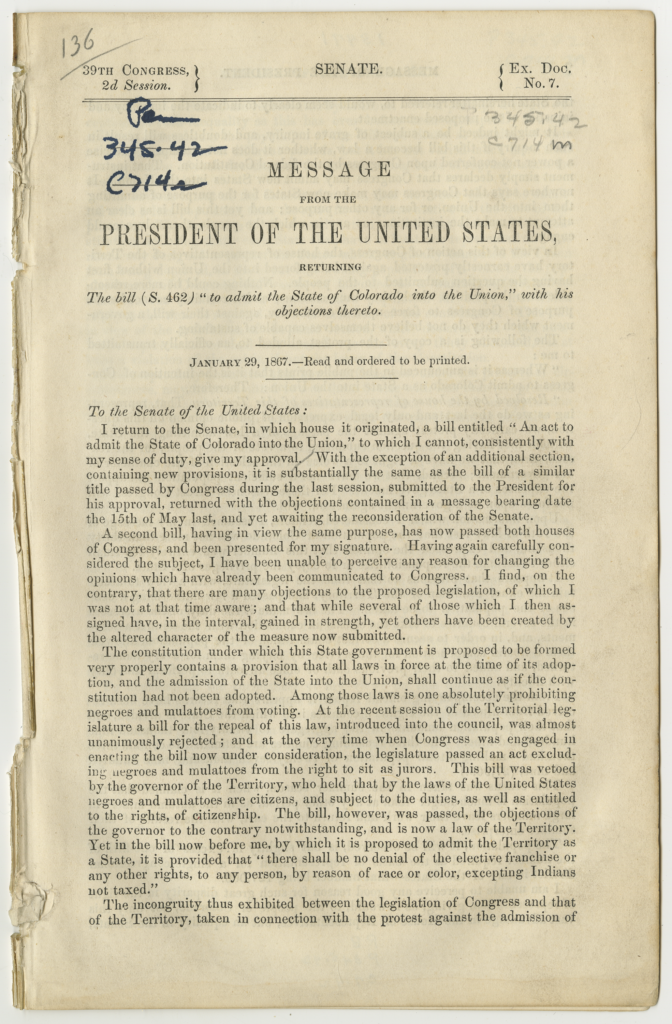 WHILE THE CITIZENS OF COLORADO BEGAN PREPARING FOR ANOTHER STATE CONVENTION, THERE WAS AN OUTBURST OF OBJECTIONS TO COLORADO STATEHOOD FROM EASTERN NEWSPAPERS. ONE PAPER WROTE:
"The population (of Colorado) is made up of a roving, unsettled horde of adventurers, who have no settled homes, there or elsewhere, and they are there, solely because the state of semi-barbarism prevalent in that wild country suits their vagrant habits. There is something repulsive in the idea that a few handfuls of rough miners and reckless bushwhackers, numbering less than 100,000, should have the same representation in the Senate as Pennsylvania, Ohio, and New York and that these few thousands should have the same voice in our Legislation and administration of the government, as the millions of other States."
DESPITE THESE NEGATIVE REBUKES, PRESIDENT GRANT SIGNED THE STATEHOOD BILL INTO LAW AT 20 MINUTES TO MIDNIGHT ON THE NIGHT OF MARCH 3, 1875. THE ONLY HURTLE LEFT FOR STATEHOOD WAS THE CITIZENS OF COLORADO PASSING A STATE CONSTITUTION.
THE CONSTITUTIONAL CONVENTION BEGAN ITS WORK IN DENVER ON DECEMBER 20, 1875 WITH 39 DELEGATES IN ATTENDANCE AND LASTED 85 DAYS. THE STATE CONSTITUTION WAS SUBMITTED TO THE PEOPLE OF COLORADO ON JULY 1, 1876 AND RATIFIED BY A TOTAL OF 19,505 VOTES, 15,443 FOR AND 4,062 AGAINST.
FINALLY, AFTER 17 YEARS OF CONVENTIONS, CONSTITUTIONS, BILLS, AND VOTES, ON AUGUST 1, 1876, PRESIDENT GRANT ISSUED A PROCLAMATION DECLARING THE ADMISSION OF COLORADO INTO THE UNION OF STATES. IT WAS THE 38TH STATE ADMITTED, AND THE ONLY CENTENNIAL STATE.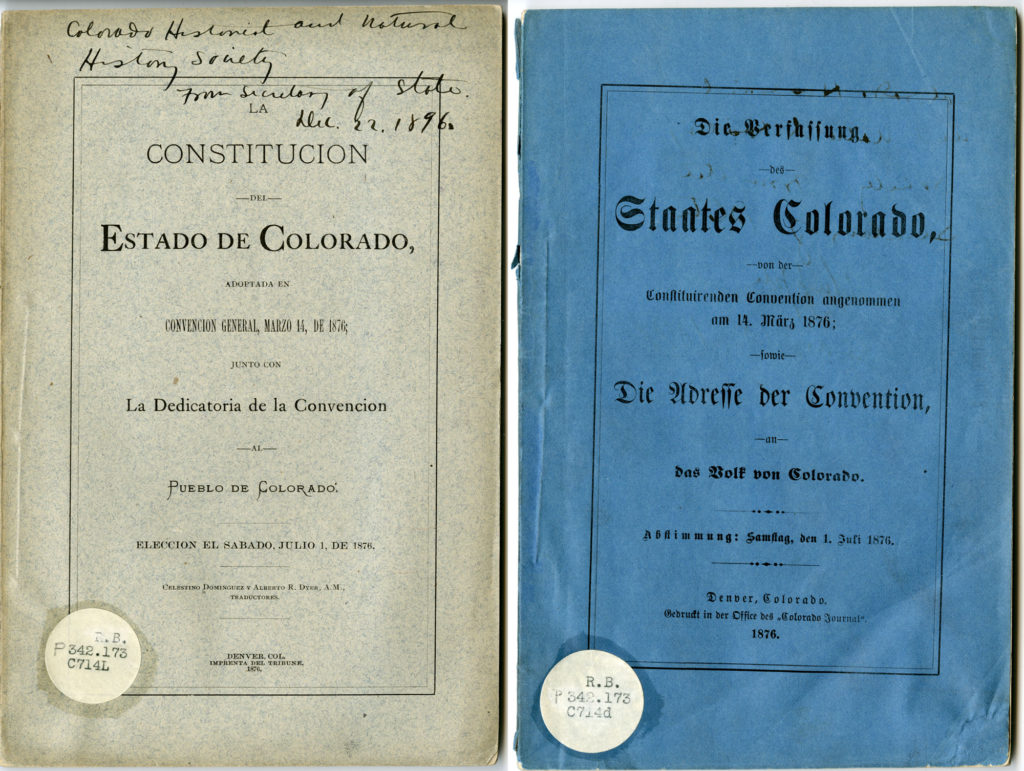 REFERENCES:
1. The Long Hard Struggle over the Colorado Bill, Rocky Mountain News, March 16, 1875.
2. How Does a Territory Become a State? Puerto Rico Report, April 19, 2019.
3. Byers, William N., Encyclopedia of Biography of Colorado, Chicago, The Century Publishing and Engraving Company, 1901, pp 98-102.
4. Denver Daily Times, August 2, 1876
5. Jerry Kopel, Colorado Statehood Struggle
6. 11 Things you don't know about Colorado's path to statehood, July 20, 2018, History Colorado