Gold-seekers flocked to Denver City by the hundreds—hoosiers, suckers, corn crackers, buckeyes, red-horses, Arabs, and Egyptians—most hoping to get rich and get out. Many greenhorns arrived, ready to exchange their team and wagon for the mining supplies they needed. Freighting, and commercial hauling of supplies, prospered during this era by providing those supplies. Charles Blake and Andrew Williams built Denver City's Elephant Corral as a trading post aimed at serving both the teamsters and gold-seekers.
Read Article as PDF: Volume 13 – Denver City's Elephant Corral
The Elephant Corral started as the largest building in the Denver and Auraria settlement—32 feet wide and 100 feet long. It grew to include a livery, a stockyard, and of course, a brothel. The front of this large building contained the bar and gambling tables. This made for an easy exit thru the cotton covered windows if someone started shooting. Behind the bar, six bedrooms were rented to anyone needing overnight accommodations. Horace Greely spent a single night in one of these rooms before pre-empting a cabin to escape the barroom noise that lasted all hours of the night.
It is said that Blake & Williams advertised along the main routes to Denver and often sent employees out to meet the wagon trains and escort them back to the Corral. Around 1860, Blake & Williams sold the business to Robert Teats who enlarged it and named it the Elephant Corral.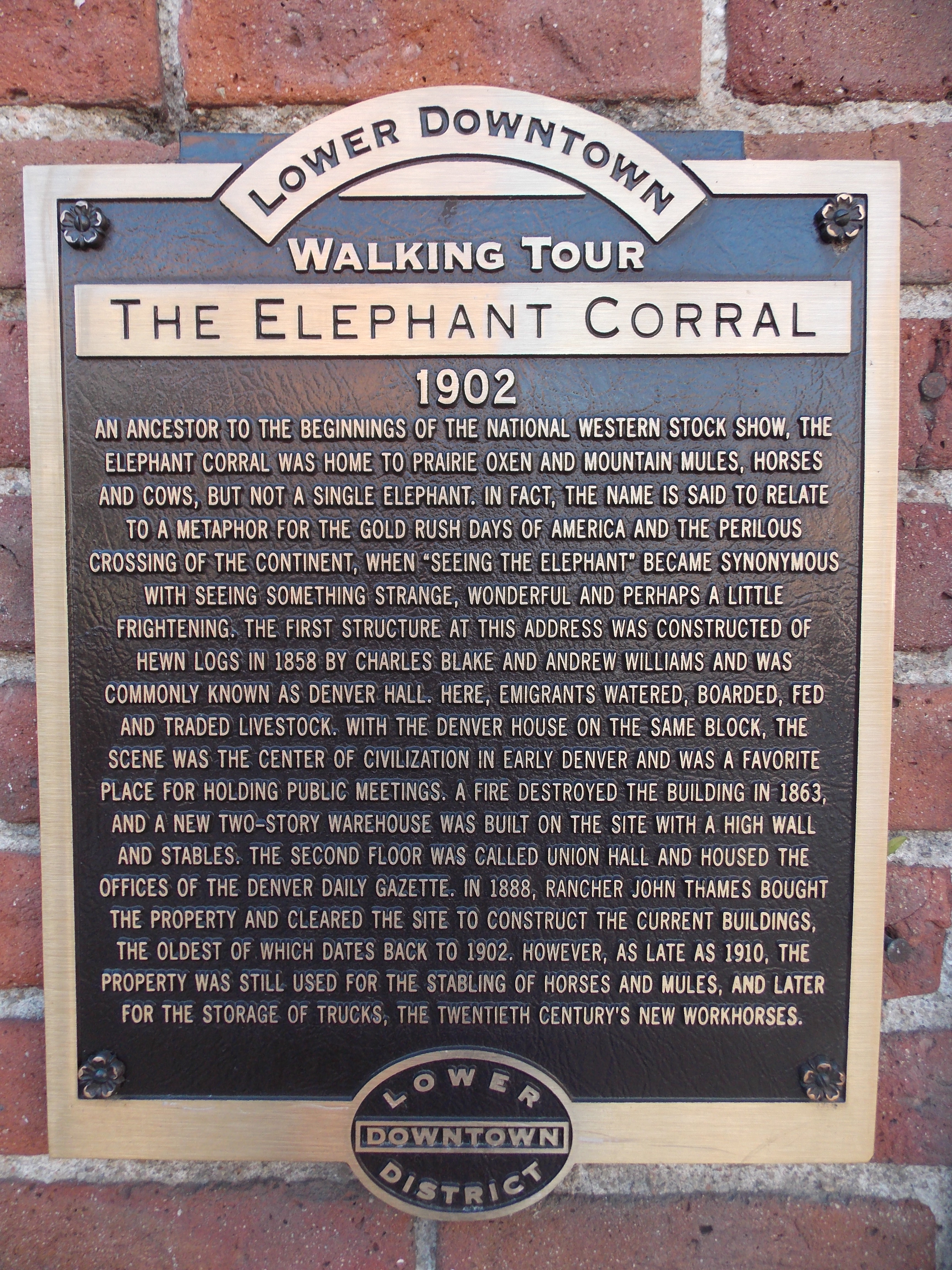 Some  believe the name Elephant Corral was derived from the saying, "Seeing the Elephant" which in gold rush days meant to see or exhibit something strange or wonderful, especially to see it for the first time. Others think the complex was named after the Elephant Corral stables in Council Bluffs, Iowa. Either way, the Elephant Corral prospered.
In the early days of the settlement, currency was scarce and most business was conducted with gold dust. At the time, a pinch of dust between the thumb and forefinger was reckoned at 25 cents, no matter how big a miner's hands. In 1863 Teats brought in a load of apples and sold the good ones for 50 cents apiece, the shriveled ones for 25 cents.
Blake & William surrounded the Elephant Corral with a thick, groat wall, built from mud mixed with cobble stones from Cherry Creek and topped with gun ports. Denver City, it was said, protected its horses, whiskey, whores, and oxen.
The Contested Plains: Indians, Goldseekers, and the Rush to Colorado, Elliott West, 1998, pp 215, 240.
Elephant Corral Has Helped Make History, July 3, 1941, Steamboat Pilot, Steamboat Springs, CO.