THE ADAMS' EXPEDITION, TRYING TO DISCOVER A WATER ROUTE FROM THE ROCKY MOUNTAINS TO THE PACIFIC, HAS COME TO A RAPID END. NO LIVES WERE LOST, BUT AFTER A MONTH AND A HALF OF TRAVELING DOWN THE BLUE AND GRAND RIVERS, ALL SUPPLIES, INSTRUMENTS, AND BOATS WERE LOST IN WILD CATARACTS. THE FATE OF JOHN WESTLEY POWELL, WHO BEGAN A SIMILAR EXPEDITION ON MAY 29, 1869, IS UNKNOWN, BUT AFTER CAPTAIN ADAM'S EXPERIENCES, FEARS FOR HIS EXPEDITION'S SAFETY HAVE INCREASED.
Read in PDF Format: 1869 – Captain Samuel Adams' Expedition Fails
THE HONORABLE CAPTAIN SAM ADAMS ARRIVED IN BRECKENRIDGE IN EARLY MAY AFTER FAILING TO OBTAIN PASSAGE ON THE POWELL EXPEDITION. DETERMINED TO BE THE FIRST TO EXPLORE THE WATER PASSAGE, IT TOOK ADAMS JUST TWO MONTHS TO PREPARE FOR A JOURNEY DOWN THE BLUE AND GRAND RIVERS. CAPTAIN ADAMS, NOW DESCRIBED AS A MAN POSSESSING A SWINDLERS GIFT OF PERSUASION, CONVINCED THE PEOPLE OF BRECKENRIDGE THAT HIS UNUSUAL PLAN WAS BOTH SOUND AND ACHIEVABLE.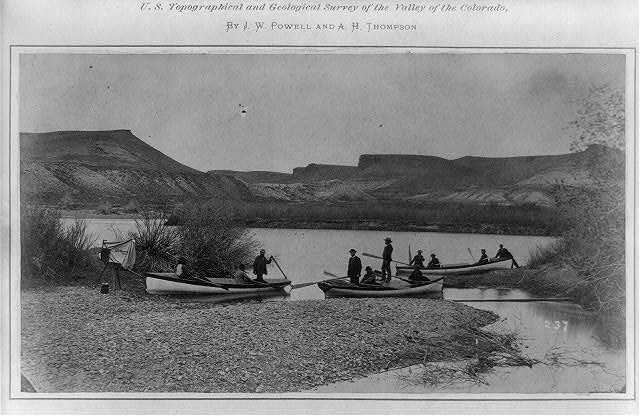 WITH THE TOWN'S ASSISTANCE AND FINANCIAL SUPPORT, CAPTAIN ADAMS BUILT FOUR OPEN BOATS, 22-FEET LONG, MADE OF GREEN PINE. THIS BRECKENRIDGE NAVY, COMPOSED OF TEN VOLUNTEERS, WAS SUPPLIED WITH HUNDREDS OF POUNDS OF FLOUR, BACON, COFFEE, RIFLES, AMMUNITION, AND SCIENTIFIC INSTRUMENTS BEFORE IT SET SAIL ON JULY 12, 1869.
THE TOWN, IN A GRAND GALA, SENT THE ADVENTURERS OFF WITH A SPEECH BY JUDGE SILVERTHORNE AND A FLAG INSCRIBED BY THE LADIES OF BRECKENRIDGE WITH "COLORADO TO CALIFORNIA, GREETINGS!"
JUST 8 MILES DOWNSTREAM, ADAM'S DESCRIBED THE FIRST OBSTACLE ENCOUNTERED BY THE FEARLESS CREW WHERE BOULDER CREEK ENTERS THE BLUE. ADAMS WROTE: "ON TURNING A BEND IN THE RIVER, OUR REAL DANGER BURST UPON US, AS WE SAW, FOR THE FIRST TIME, THE WHITE FOAMING WATER DASHING FOR ONE-MILE AHEAD OF US." ADAM'S CREW DESCRIBED CHAOS AS THE BOATS CRASHED INTO ROCKS. BY THE TIME THE PARTY REACHED THE CONFLUENCE OF THE GRAND RIVER, TWO OF THE FOUR BOATS WERE LOST.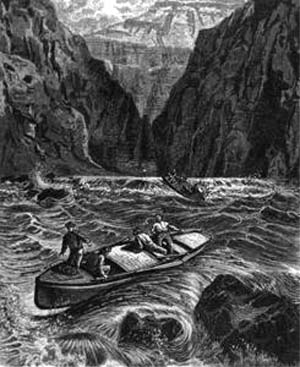 THE PARTY CAMPED FOR A WEEK AT THE CONFLUENCE BEFORE ADAM'S WROTE THEY "STARTED DOWN THE GRAND RIVER WITH OUR TWO REMAINING BOATS: RAN FOUR MILES SOUTHWEST TO THE GRAND CANYON OF THE GRAND RIVER." UNFORTUNATELY, THIS ROUTE ALSO HAD GRAND CATARACTS AND BY AUGUST 7, THE LAST OF THE GROUP'S BOATS HAD BEEN DASHED TO BITS.
ALL ALONG THE JOURNEY, VOLUNTEERS BEGAN DESERTING THE VENTURE UNTIL CAPTAIN ADAMS WAS LEFT ALONE WITH JUST TWO FAITHFUL FOLLOWERS, TWIBLE AND LILLIS. AFTER LOSING THEIR LAST BOAT, THEY HIKED DOWN RIVER AND BY AUGUST 11, THEY HAD BUILT A FIVE BY SIXTEEN FOOT RAFT AND WERE AGAIN ON THE RIVER. THEY TRAVELED APPROXIMATELY 30 MILES BEFORE THIS RAFT WAS DESTROYED, BUT UNDAUNTED, THE SMALL CREW BUILT ANOTHER RAFT. AND A THIRD. AND A FORTH.
FINALLY, IN LATE AUGUST, AFTER FOUR BOATS, ALL SUPPLIES, AND F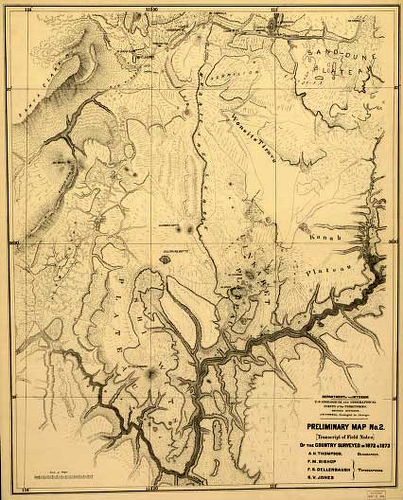 OUR RAFTS HAD BEEN LOST, CAPTAIN SAMUEL ADAMS GAVE UP THE VENTURE AND RETURNED TO BRECKENRIDGE, ARRIVING ON AUGUST 26TH. ALTHOUGH HE FAILED TO REACH CALIFORNIA, ADAMS WILL USE HIS JOURNAL AND WRITE AN HONEST ACCOUNT OF HIS TRIP WHICH HE WILL NAME "EXPEDITION OF THE COLORADO RIVER AND ITS TRIBUTARIES, A WONDERFUL COUNTRY OPENED UP."
OUR HATS ARE OFF TO THE BRAVE FELLOW, ALTHOUGH WE NEVER HAD A SPOONFUL OF HOPE FOR THE SUCCESS OF THE VENTURE. WE NOW WAIT WITH BATED BREATH FOR NEWS OF THE FATE OF THE POWELL EXPEDITION.
REFERENCES:
1. Stegner, Wallace, Beyond the Hundredth Meridian: John Wesley Powell and the Second Opening of the West, 1853.
2. Wheat, Doug, The Floater's Guide to Colorado.
3. Colorado Miner, July 13, 1869, https://www.coloradohistoricnewspapers.org/?a=d&d=CMD18690713-01.2.24&dliv=none&e=01-06-1869-01-11-1869–en-20–1–txt-txIN-Breckenridge——-0-
4. Colorado Miner, August 26, 1869, https://www.coloradohistoricnewspapers.org/?a=d&d=CLM18690826-01.2.34&dliv=none&e=——-en-20–1–txt-txIN——–0-
5. Colorado Museum Summary: http://coloradomuseums.co/cities-4-plus-museums/breckenridge/
6. Illustrations used without permission.